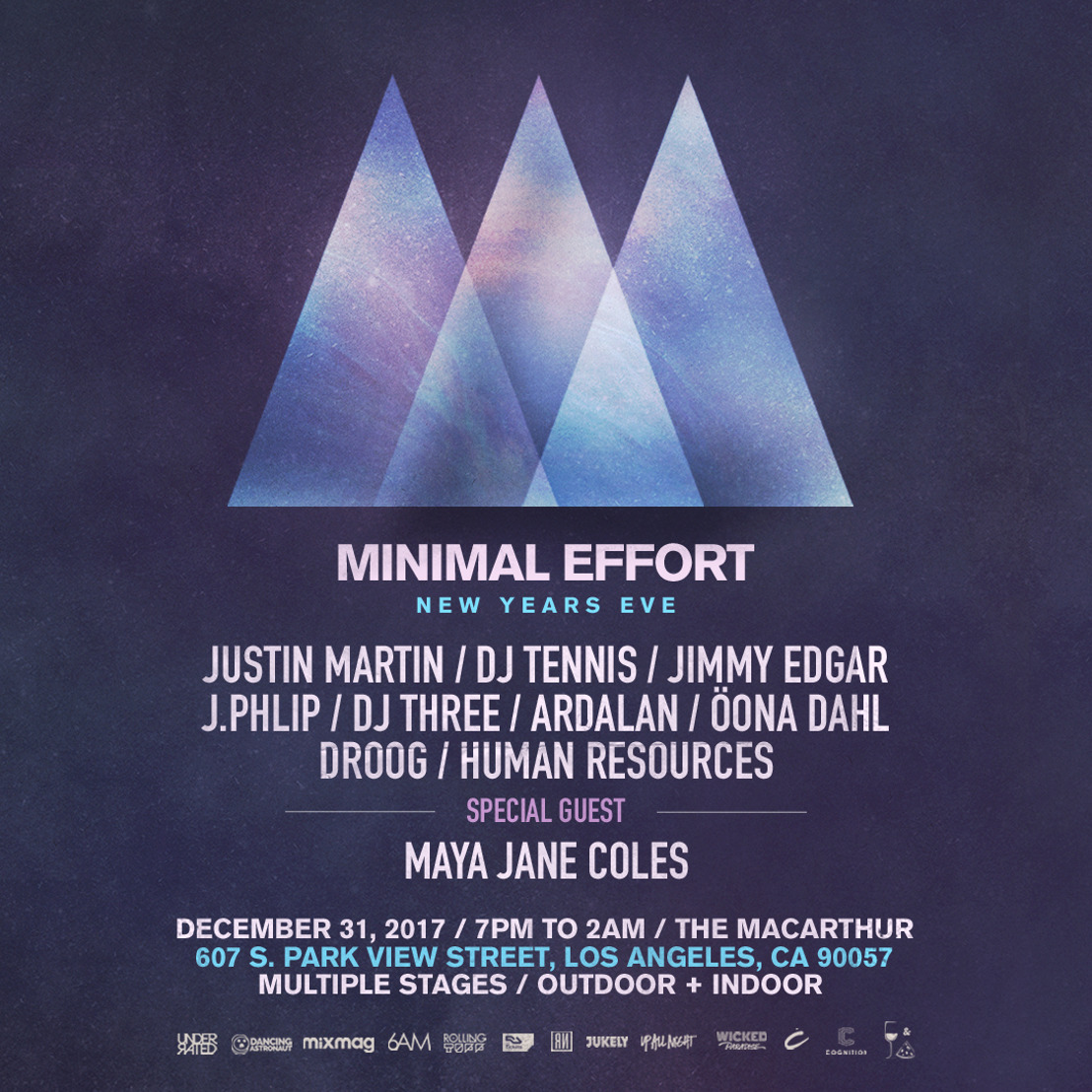 Minimal Effort Adds Maya Jane Coles + Droog to 2017 New Year's Eve Festival
And Announces Four Stages Hosted by Culprit, Wicked Paradise, Wine & Cheese Party, and Cognition
Monday, December 4, 2017 —
December 31st at The MacArthur
Info + Tickets to Minimal Effort New Year's Eve:
Minimal Effort today announced that London house maestro Maya Jane Coles and Culprit's own DJ collective Droog will be completing their lineup for their 2017 New Year's Eve soiree. While marking its return to The MacArthur, Minimal Effort will celebrate the new year with pure excitement and extravagance with their main goal in mind - to bring dance music's underground roots to LA's party elite.
Maya Jane Coles and Droog will be joining an already stacked assemblage of house and techno staples including DJ Tennis, Jimmy Edgar, DJ Three, Oona Dahl, and Human Resources along with Dirtybird's own booty-shaking house experts Justin Martin, J.Phlip, and Ardalan.
The MacArthur will be transformed into an underground haven with lounges and bars laid out for the utmost comfort complimented with a sprawling indoor dance space that will allow wide-reaching production capabilities and four fully-immersive stages. Each stage will be hosted by some of the west coast's favorite collectives like pool-side phenomenon Wicked Paradise, fancy warehouse upstart Wine & Cheese Party, techno flag-bearers Cognition, plus a showcase by LA's own Culprit.
With a keen attention to detail and industry leading production, Minimal Effort continues on its mission to foster the international House and Techno community in their LA home base. For those who have been apart of Minimal Effort's growth, trust that their passion and commitment will provide nothing but the best New Year's Eve experience.
For more information please visit:
http://minimaleffort.net/
Minimal Effort New Year's Eve 2017 Lineup
Maya Jane Coles
Justin Martin
DJ Tennis
Jimmy Edgar
J.Phlip
DJ Three
Ardalan
Oona Dahl
Droog
Human Resources